On March 11, 2011, disaster struck Japan in the form of a powerful earthquake and subsequent tsunamis.  The subsequent meltdown of the reactors at the Fukashima Daiichi power complex will be called one of the world's worst nuclear power plant disasters. Communities around Fukashima are uninhabitable and will be for decades with cleanup of the actual site slated to take at least half a century at a cost of tens of billions of dollars.
Fukashima Unit 4, one year after the disaster (Tomohiro Ohsumi/EPA / March 10, 2014)
And while the disaster happened over three years ago, Japan is still recovering.  To help paint a picture of Japan's current state of affairs, only two out of the fifty power reactors in Japan have approval to restart after the disaster as new rules and regulations in Japan have been implemented and placed almost all of the reactors out of compliance.
While improvements are underway, regulation comparisons between Japan and the United States are still being reviewed.  A report prepared by the NRC in November 2013 titled, A comparison of U.S. and Japanese regulatory requirements in effect at the time of the Fukushima accident found that while there were difference between nuclear regulations at the time of the disaster for both countries, there were also many similarities and shortcomings. Since the disaster both Japan as well as the United States have tightened up regulations and requirements significantly.
While this has been a tragedy for Japan, it has given the commercial nuclear industry a wakeup call to improve general practices.  In addition to the work and retrofits being done in Japan, their has been a flurry of activity in the nuclear community within the United States to take lessons learned and implement a higher standards.
To this end, the NRC created a website page titled, What Are the Lessons Learned from Fukashima?  This page is based on a July 2011 task force report by the NRC and became the basis  of NRC's activities.  Lessons learned are summarized on the page and have been broken up into three tiers.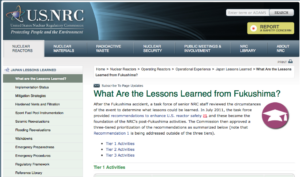 In a recent  New York Times article, it highlights some of the changes that have been occurring here in the US after the disaster.  A nuclear power plant (operated by Exelon) in Peach Bottom, Pennsylvania, was built using the same design as the Fuushima Daiichi plant.  This plant is receiving many improvements and retrofits to help it meet new requirements and regulations.  Exelon operates 17 out of the 100 commercial nuclear power plants within the United States and estimates that it will spend between $400 and $500 million in upgrades.   This averages out to be between 23 and 30 million per power plant and that puts the estimated retrofits for all power plants somewhere between $2.3 and $3 billion dollars.
Upgrades range from simple items such as cots and portable latrines to much more complex kits stored offsite at industrial depots.  Each kit is comprised of 20 semi-trailers full of pumps, hoses, and other emergency gear that can be shipped off at a moments notice to anywhere in the country.  While typically a generic kit like this would not work as plants across the country have large variances in design, the industry has pulled together to create universal standards for backup equipment.  
Many of these upgrades will be completed shortly, but there is much yet to be done as improvements here in the could stretch out till 2021.
Sources:
Report on US and Japanese Regulatory Requirements when Fukushima Accident Occurred